Scorpions are everywhere in the Phoenix Arizona Valley
Early Bird Pest Control provides scorpion exterminator and pest control services throughout the Phoenix Valley and we frequently get called for scorpion control in Paradise Valley, North Scottsdale, Goodyear, Peoria, Cave Creek, Carefree, Glendale, Sun City, Surprise, Litchfield Park, Tempe, Phoenix, Avondale and Buckeye as well as throughout the Phoenix Arizona Valley.
We live in the scorpion's natural habitat – the Arizona Desert!  Scorpions have been here thousands of years and they're not going anywhere! We invaded their territory. Scorpions are very resilient, experts at survival in the Arizona desert.
Arizona Bark Scorpions are attracted to cool, moist areas which is also why they are often found in or around Arizona homes.
If you have scorpions invading your home or property give early bird pest control a call. We've been taking care of the Phoenix Valley's scorpion problems for 23 years. View all of our scorpion and pest control service areas here.
If the Crawl… Give Me a Call: 602.919.5915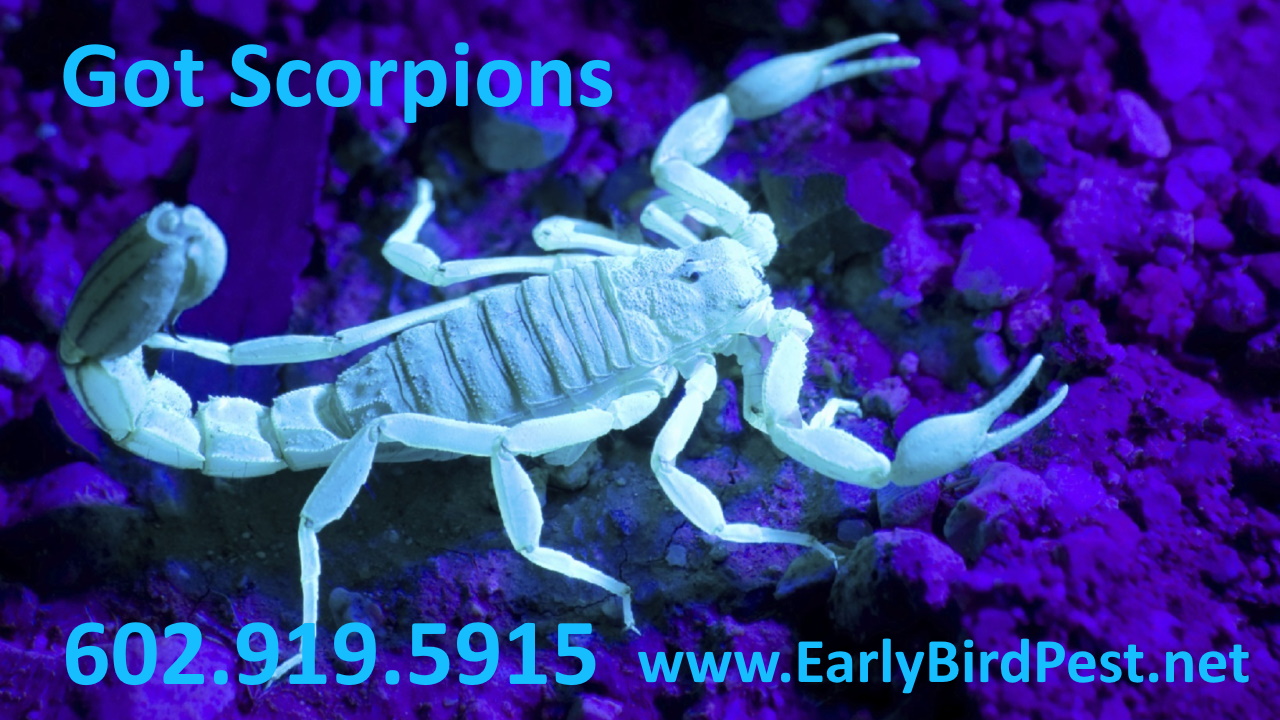 There are over 60 species of scorpions found in Arizona, the most common type of scorpion in the Phoenix Arizona Valley is the Bark Scorpion, which is a small species of scorpion usually about 1 to 3 inches in length.
A simple way to inspect your home or property for scorpions in Arizona is to get a black light flashlight and walk around your home or property in the dark. Scorpions come out at night and they will glow white as they have an iridescent exoskeleton.
Pest control clients often ask "How Dangerous are scorpions in Arizona?"  Well, the Arizona Bark Scorpion is the most common scorpion in Maricopa County and the Phoenix Valley as well as one of the most venomous scorpions found in AZ. . The Arizona Bark Scorpion "Sting" can cause swelling, redness around the sting, uncontrollable muscle spasms and even breathing problems. It is advised that you seek medical attention immediately if you are stung by a scorpion. Although scorpion stings are rarely fatal, they can be in people who have a bad reaction to the scorpion venom. Contact Early Bird Pest Control
Arizona Bark Scorpion Pest Contol Service
Let's face it. The scorpions aren't going anywhere in Arizona!  We've got you covered. We know exactly where to look for signs of scorpion activity in and around your home and if you have scorpions we will find them. We'll also treat your home and property thoroughly, professionally and make sure we keep your home, yard, and property free of scorpions and keep your family safe.
Give Early Bird Pest Control a call to schedule a scorpion and pest control inspection in Phoenix for the next day we are in your neighborhood in the Phoenix Valley including North Scottsdale, Cave Creek, Paradise Valley, North Phoenix, Laveen, Tempe, and in the West Valley: Goodyear, Avondale, Litchfield Park, Buckeye, Verrado, Estrella, Pebble Creek, Waddell, El Mirage, Tolleson, Glendale, Peoria, Surprise, Sun City, Sun City West and Sun City Grand.
Phoenix Arizona Scorpion Control Exterminator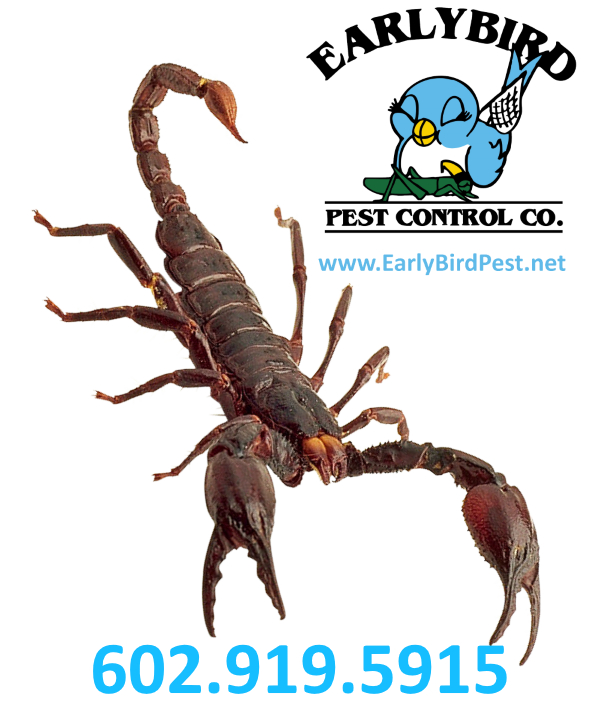 Arizona Scorpion and Pest Control Inspections
Early Bird Pest is happy to do a complete pest control inspection at your Phoenix Valley home, for scorpions as well other insects like ants, cockroaches, spiders, other bugs and pests and rodents and rats as well. Unwanted desert invaders are common in Arizona so it is advised to stay on top of it, schedule annual pest and scorpion inspections and monthly or Bi-Monthy pest control service can keep your Phoenix Arizona home safe and scorpion and unwanted pest free.
Our prices are reasonable and our pest control service is outstanding. We offer 23 years of pest control and scorpion exterminator experience in the Phoenix Valley, we've seen every insect, bug, pest and rat and rodent Arizona has to offer!