Phoenix Arizona Pest Control Services
Here you will find information on the different types of services Early Bird Pest Control offer as well as Arizona pests we treat for in the Phoenix  Valley including Goodyear, North Scottsdale, Paradise Valley, Peoria, Glendale, Surprise, Sun City, Buckeye, Avondale, Laveen and more.
Early Bird Pest Control has been servicing the Phoenix Arizona Valley with quality insect and rodent pest control for 23 years!
Scorpions
Scorpions are very common in the Arizona Desert. We invaded their home. Scorpions tend to be more concentrated in newer residential developments and they can be found all over the Phoenix, Arizona Area.
Although there are over 60 species of scorpions found in Arizona, the most common type of scorpion in the Phoenix Arizona Valley is the Arizona Bark Scorpion, which is a small species of scorpion usually about 1 to 3 inches in length.
Scorpions are poisonous and if you see them around your home or property give us a call. Regular pest control maintenance can keep the scorpions away from your home and property even if they are frequently found in your residential neighborhood.
Cockroach
Another frequently found insect in Arizona is the cockroach. There are several types of cockroaches found in Arizona and they are a nuisance and can carry and transmit foodborne illnesses. If you have Cockroaches in your home or on your property give us a call as our regular pest control maintenance service can take care of your cockroach problem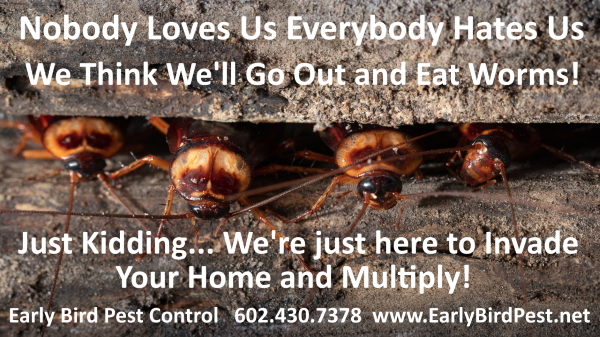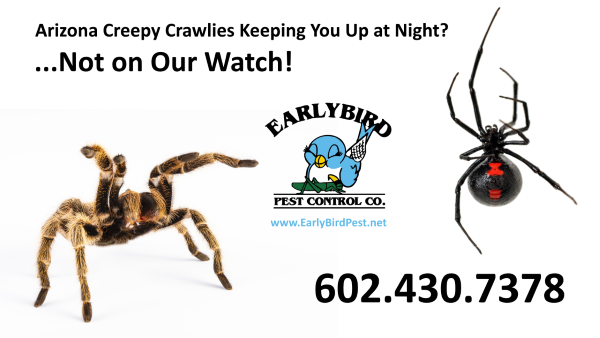 Beehive Removal: Bees, Wasps, Hornets
There are more than 1300 Native Bee Species in Arizona, as well as invasive killer bee swarms have been found throughout Arizona.  If you see a bee swarm around your house or on your Phoenix area property give us a call. We are experts at removing bee swarms and beehive removal from Arizona property with more than 23 years of experience.  Many Wasp and hornet species are common in Arizona as well, don't hesitate to call us if they've made a nest or hive on your property or home.
If your wondering what type of bee species you might have seen on your Arizona property, here is a link to the University of Arizona Bee identification guide.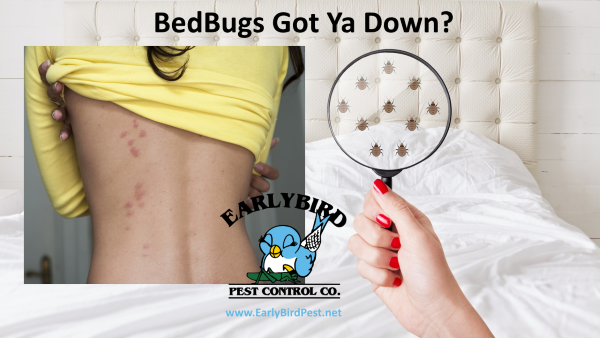 Ants
There are dozens of species of ants in Arizona. A few of the species are Fire Ants, Crazy Ants, Forelius Ants, Carpenter Ants, Pavement Ants, and House Ants. 
Ants can infest your home, garage, backyard, or property and can provide a challenge to eliminate from your property.
The best defense is a good offense through scheduling regular maintenance pest control treatments with Early Bird Pest Control.  This will keep ants away from your property and they'll just pass by your Phoenix Arizona property and move on down the road.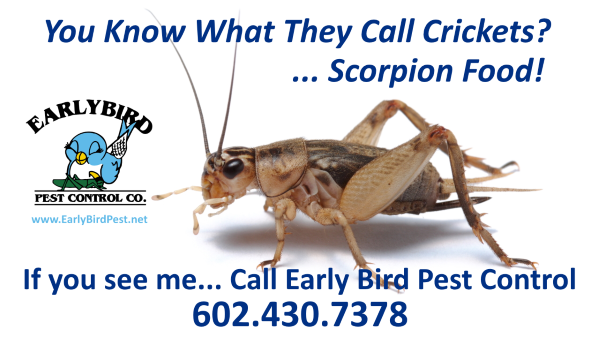 Spiders
There are hundreds of species of spiders in Arizona. There are 2 types of dangerous venomous spiders in Arizona, the Black Widow and the Brown Recluse.  Most spider species in Arizona are relatively harmless.
The largest spider that is common to the Phoenix Arizona Desert is the Tarantula measuring up to 5 inches in size.  Tarantulas are not aggressive but can deliver a painful bite.  Early Bird Pest Control can help keep your home and property spider free and your family safe. Give us a call to learn more about our Affordable Pest Free Home Maintenance Plan.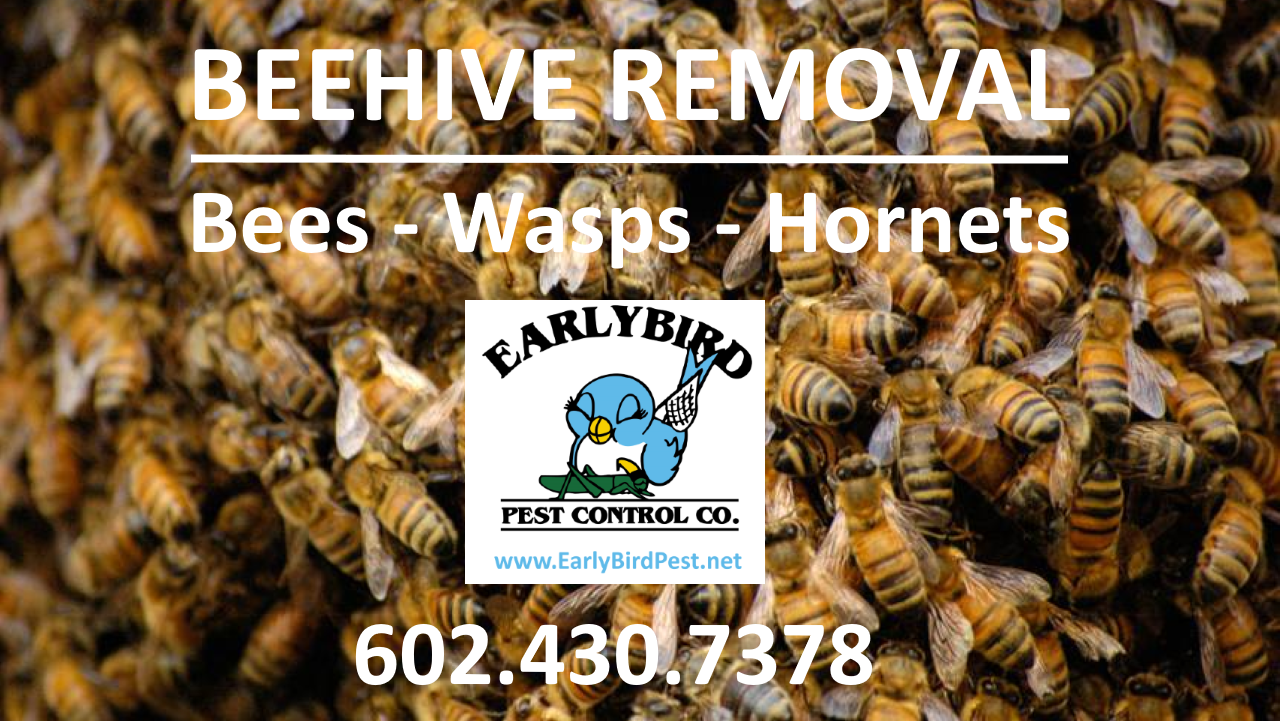 Bedbugs
Bedbugs are a major problem in Arizona because of the heat. They are often difficult to see but are a huge menace.
Bedbugs can hitchhike on your clothing from a hotel, a friend's house, or a movie theater and you accidentally take them home. Once they infest your home Bedbugs can very difficult to eliminate but Early Bird Pest Control has been treating Phoenix, Scottsdale, and Paradise Valley Arizona Homes and properties for bedbugs for over 23 years. Put our bedbug extermination experience to work for you and your family. If you are traveling in Arizona you can check the BedBug Report for the state of Arizona to see if bedbugs have recently been reported at any hotel, motel, or resort you plan on visiting.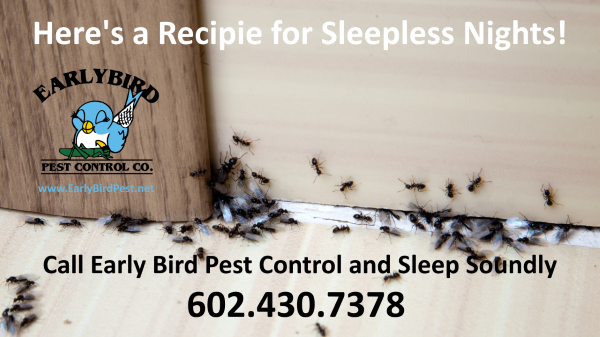 Crickets
Crickets are everywhere throughout Arizona. Crickets are omnivores that eat plants, fungus, mushrooms, and dead bugs.
Crickets normally remain outside but will venture into your garage, sheds, and when the weather cools down inside your home.
The worst part about crickets besides the incessant chirping is that they are a favorite food of scorpions so if you have crickets, you probably have scorpions.
A regular Monthly or Bi-Monthly pest control treatment maintenance plan can keep your home and property cricket and scorpion pest free!

Rodents – Rats, Pack Rats, and Roof Rats
Rats are common rodents found in Arizona. You hear about roof rats frequently. They can nest in your attic and you might hear them scurrying around at night. If you have dogs or cats they may alert you to some sort of critter, usually a roof rat or mice up in your attic. It's a good idea to have your attic inspected occasionally for signs of roof rats. They are very common in the Phoenix Arizona Valley including North Scottsdale, Paradise Valley, Goodyear, Avondale, Buckeye, Sun City, Surprise, Peoria, and Glendale.
If you've seen a roof rat on your Arizona property Maricopa County has an online roof rat identification guide.
Another common Arizona Rat species is the Wood Rat also known as the Pack Rat. These little guys are very clever and can be quite the menace. They can cause quite a bit of damage to property and electrical wires if you have one on your property.
If you have a Rat or rodent problem at your Phoenix Arizona home or property in the Phoenix Valley, give Early Bird Pest Control a call. We've been aking care of Arizona rodent and rat infestations for 23 years in the Phoenix Valley!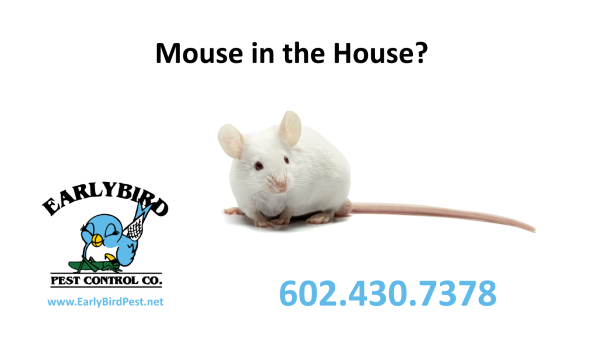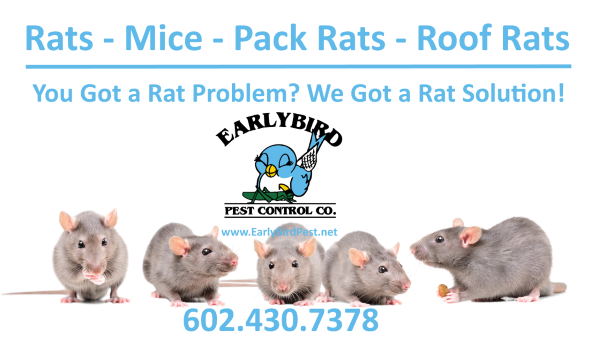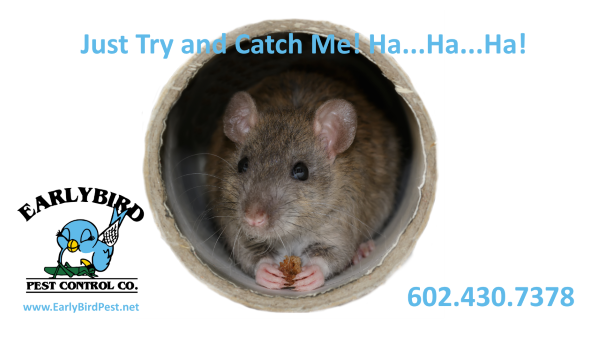 Mice
Mouse in the house? Give Early Bird Pest Control a call. Mice can be a big problem. If your home or property in Phoenix Arizona has a mouse infestation it can be dangerous to your family's health.
Mice can carry hantavirus, salmonella, and tapeworms. It's best not to mess around, if you have a mouse in your house, you'll want to call Early Bird Pest Control if you live in Phoenix Arizona Valley including North Scottsdale, Paradise Valley, North Phoenix, Peoria, Glendale, Sun City, Surprise, Avondale, Goodyear or Buckeye in the West Valley.
If you have a mouse in your Phoenix Arizona house or a Rat Problem, We have a solution. Contact Early Bird Pest Control for all your Rat, mouse or rodent problems in the Phoenix Valley, Scottsdale, Paradise Valley, Goodyear, Avondale, Buckeye, Sun City, Surprise, Peoria, and Glendale. 
Gophers and Moles
Then there is that pesky yard and garden destroyers! Nothing like a bunch of gopher or mole dirt mounds coming up in the middle of your grass lawn or your decorative rock garden. What a pain! Better call Earley Bird Pest Control. 
Yes, we'll say it again, we've been removing and exterminating these pesky rodents for more than 23 years! Our experience and expertise will take care of your rodent, Gopher, or Mole problem in the Phoenix Valley.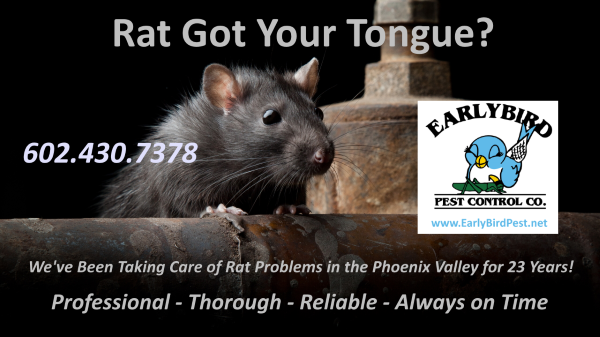 Scorpions and other creepy carwly critters are out in full force during the Spring and Summer months in Arizona. If your looking for a great pest control companywith decades of experience exterminating Arizona Pest in Phoenix, Paradise Valley, North Scottsdale and the West Valley, give Early Bird Pest Control a call at 602-430-7378.