Avondale Arizona Pest Control
Early Bird Pest Control Provides quality Pest Control and Arizona exterminator services in Avondale AZ. and throughout the Phoenix Arizona Valley. We service the entire West Valley including Peoria, Avondale, Sun City, Buckeye, Verrado, Estrella, El Mirage, Tolleson Litchfield Park, Goodyear, and Waddell.
Call Early Bird Pest for all your Avondale Arizona and Phoenix West Valley Pest Control and Exterminator needs.
Providing Quality Pest Control and Exterminator Services in Avondale & the Phoenix West Valley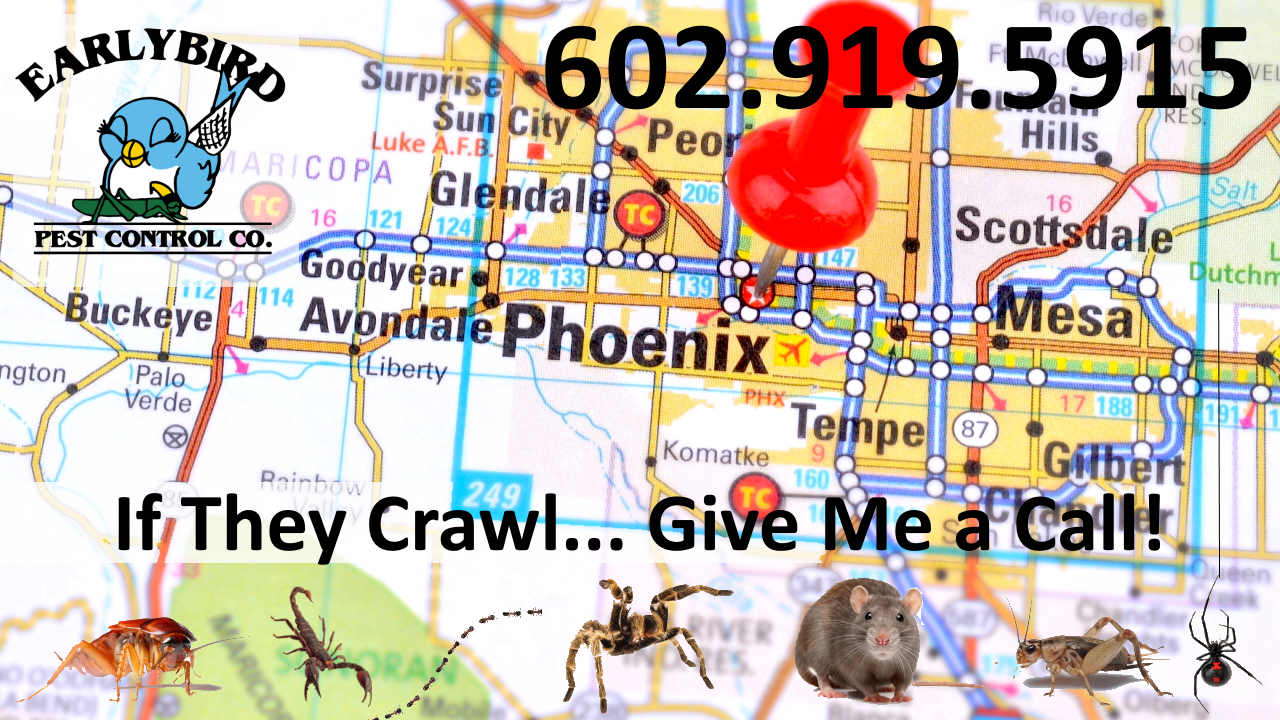 Avondale Arizona Pests
Well, Avondale Arizona is in the desert and we took over their natural habitat.  Avondale and surrounding Phoenix West Valley Communities of Goodyear, Buckeye, Verrado and Litchfield Park have an abundance of Arizona desert pests including scorpions, cockroaches,  ants, and spiders, to bedbugs, bees, wasps and hornets. Then there's the pesky rodents…  rats, mice , gophers, roof rats, and pack rats!
If you are tired of creepy-crawly pests invading your Avondale or Phoenix West Valley area home or business property in the Phoenix Arizona Valley Give me a call at 602-919-5915.  With more than 23+ years of experience as a pest control exterminator in Maricopa County and the Phoenix  WestValley including Avondale, AZ.
Professional Scorpion Exterminator in Avondale Arizona
In the above video Early Bird Pest Control Owner Henry talks about scorpion pest control and the Arizona Bark Scorpion in Avondale and Goodyear in the Phoenix West Valley. 
Thanks for visiting our Avondale Arizona pest control and exterminator page and remember – If it Crawls… Give Me a Call!   602-919-5915.
Serving Verrado, Buckeye and the Phoenix West Valley for 23 + Years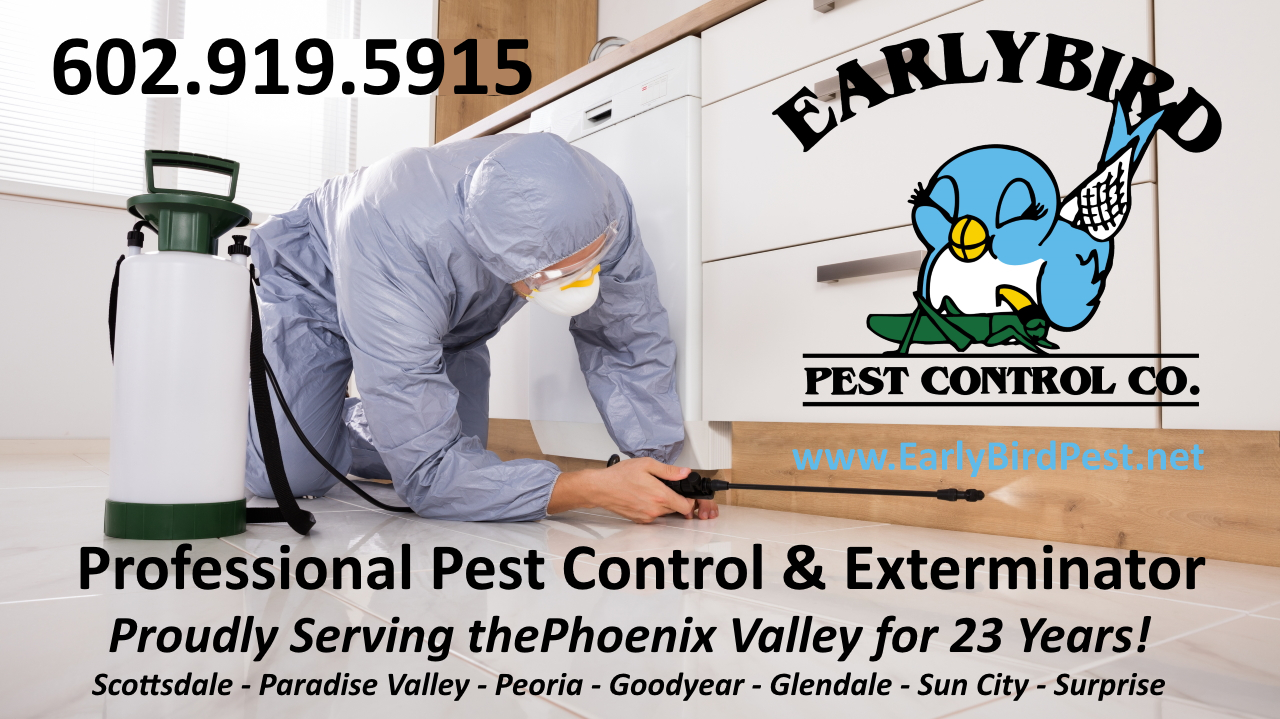 Professional Pest Control Services in Avondale and the Phoenix West Valley including Goodyear, Glendale, Surprise, Sun City, Waddell, El Mirage, Avondale, Tolleson, Litchfield Park, Estrella, Buckeye, Verrado and Peoria.
Got Ants in Avondale? Call Early Bird Pest Control!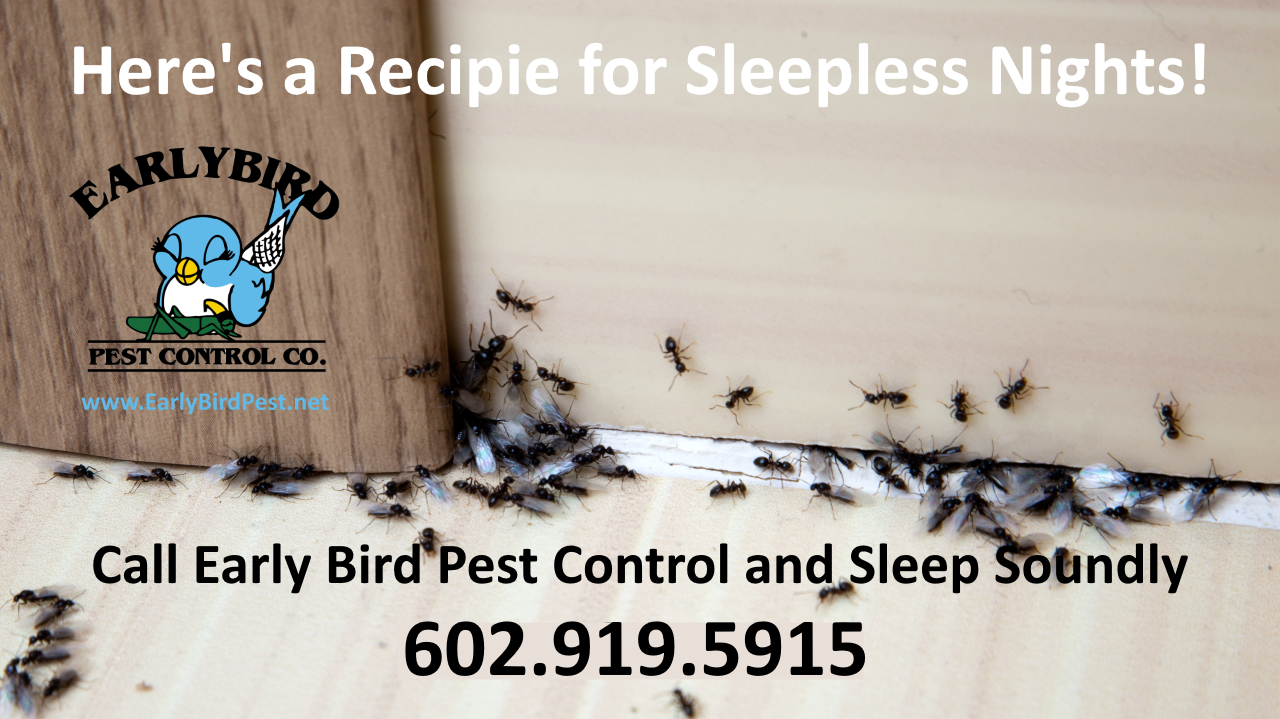 Cockroaches in Avondale? Disgusting! Give Us a Call 602-919-5915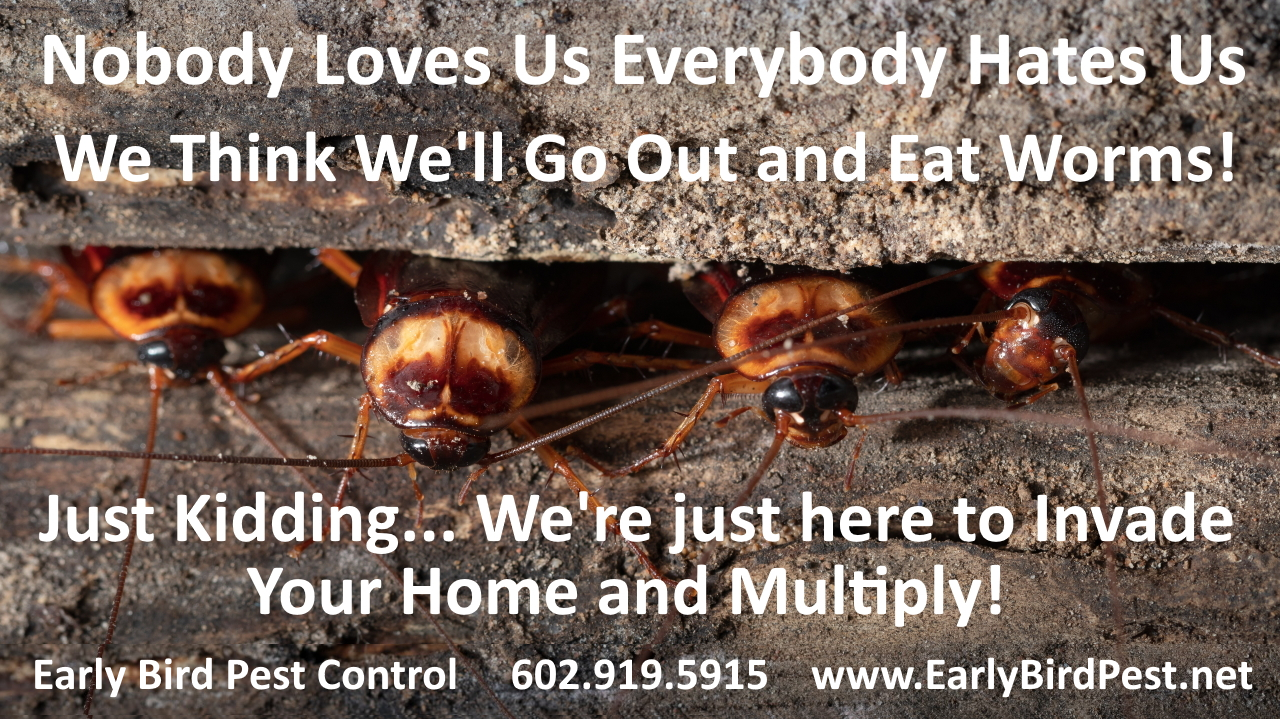 Got Scorpions in Avondale AZ?
Avondale Arizona West Valley Pest Control
If you've got pest problems in the Phoenix Valley including Avondale, Litchfield Park, Goodyear, Peoria, Sun City, Buckeye, Verrado, Estrella, El Mirage, Waddell, Scottsdale, North Scottsdale, Paradise Valley, Phoenix or Tempe Arizona, give Early Bird Pest Control a call at 602-919-5915. We have pest control maintenance programs available in Avondale and the Phoenix West Valley to keep your home and property pest, insect and rodent free!
Read our Beehive Removal Blog Post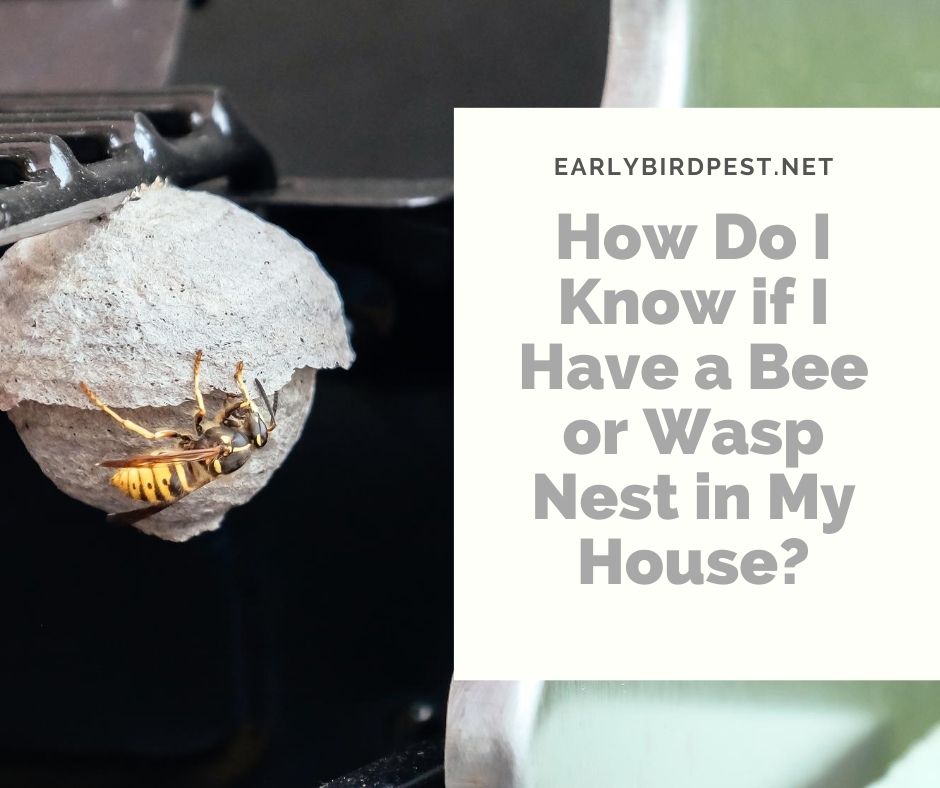 Avondale Beehive Removal Bees, Wasps and Hornets
Early Bird Pest Control offers beehive removal and bee pest control for hornets and wasps. We can remove and relocate the beehive from your Avondale, Arizona property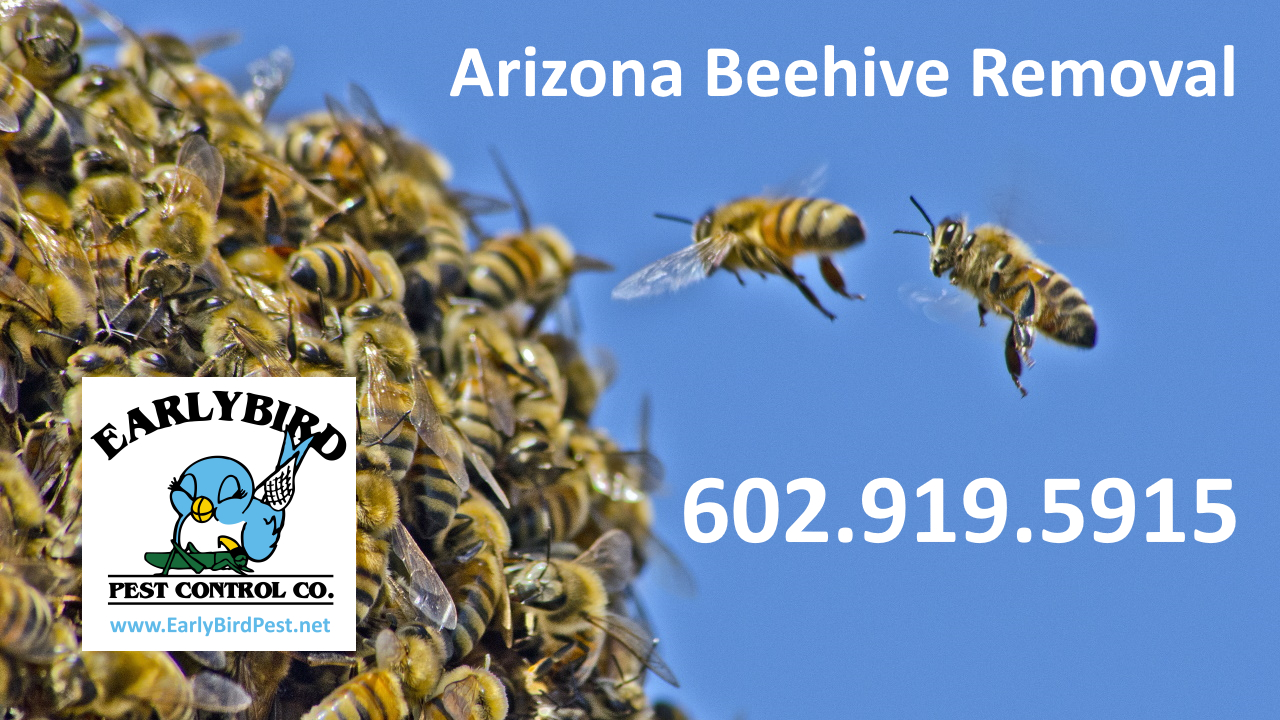 About Avondale Arizona
Avondale is a city in the Phoenix West Valley about 20 minutes West of Phoenix Arizona and about 25-minute drive from Phoenix Sky Harbor Airport in Maricopa County.     The population of Avondale Arizona in 2020 is estimated at 92,363 according to the US Census Bureau making Avondale the 13th largest city in Arizona. The city of Avondale is currently growing at rate of 2.46% annually.
Avondale was founded by William "Billy" G. Moore who arrived in Avondale Arizona in the late 1860's, settling near the Aqua Fria River, he named the original settlement Coldwater Arizona. He bought land, set up a stagecoach stop and built a saloon and a general store. Billy was also the postmaster of Coldwater from 1901 until 1905.  The name was eventually changed to Avondale and the City of Avondale was incorporated in 1946. 
Avondale is a great place to live, work, play and raise a family. Many parks, close by hiking and Mountain biking in the Estrella Mountains and Estrella Mountain Regional Park. Avondale is home to many golf courses, shopping, restaurants and even a Costco store. 
Avondale is also home to the Phoenix Raceway where NASCAR holds its Sprint Cup Series Races in March and November here in Avondale.
Avondale, AZ. Resources
If you live in Verrado or Buckeye, Arizona Here are a few Buckeye, Arizona Resources, to find your way around and information you might need.
City of Avondale
Avondale Police
Avondale Parks and Recreation
APS – Arizona Public Service (Electric Company)
COX Cable TV and Internet Service in Avondale, AZ.
Southwest Gas
Avondale Arizona Carpet & Tile Cleaning
Avondale Real Estate & Homes For Sale
Avondale Arizona Rat, Rodent, Pack Rat, Roof Rat and Mice Exterminator and Pest Control
If you have a Rat Problem, We have a Rat Solution! Serving Avondale AZ for 23 Years!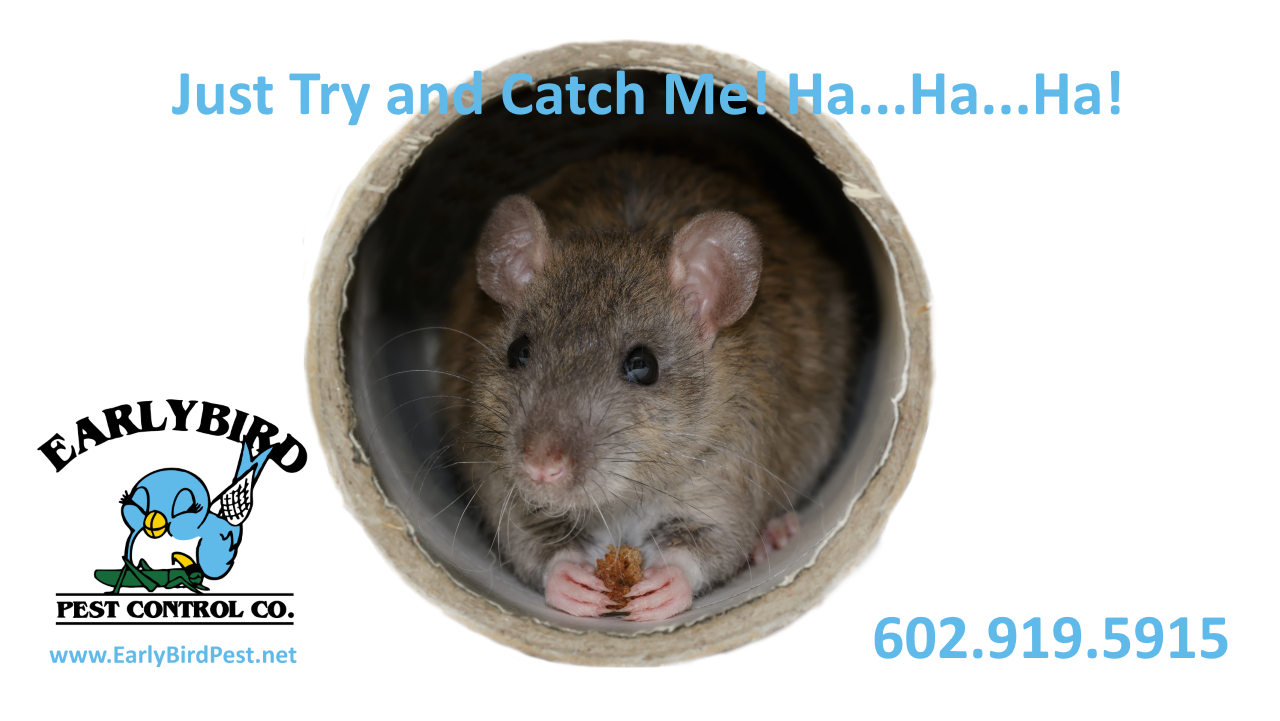 Yes! Mice too! Your One-Stop Shop for Avondale Arizona Pest Control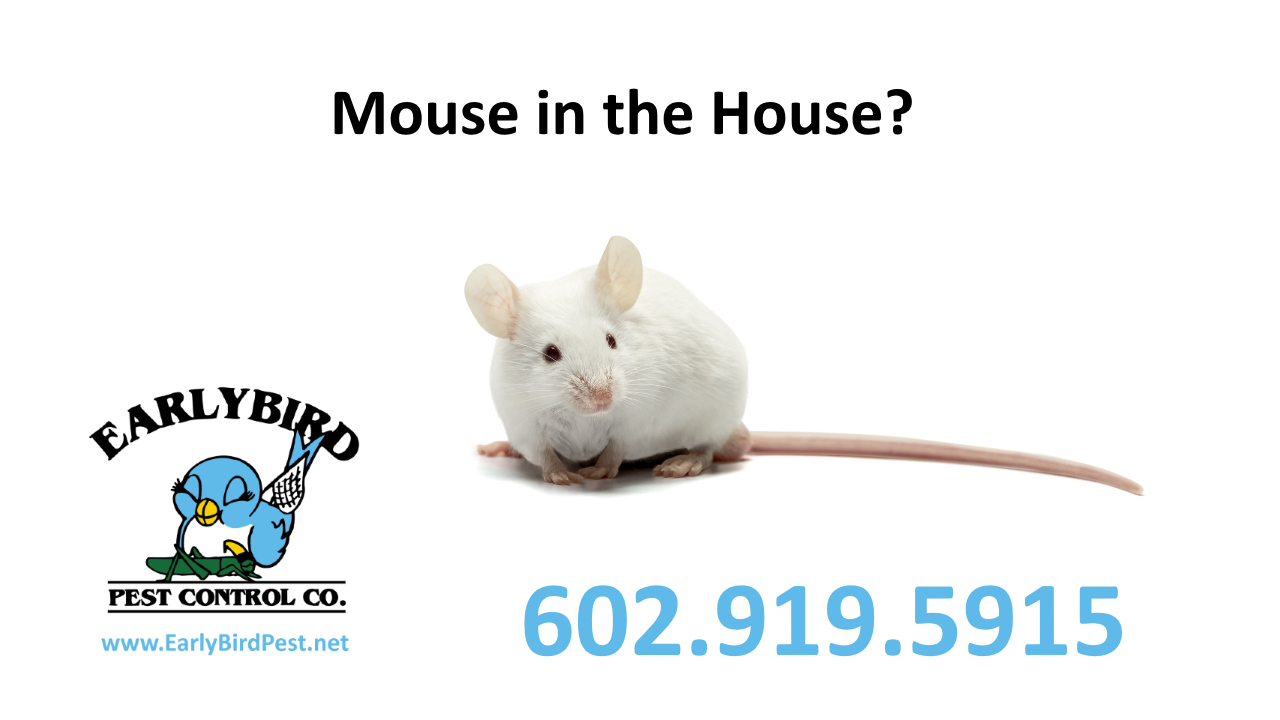 If You've Got A Pest… Better Call the BEST!
No matter what kind of Arizona Desert Pest we can help.  Insects, bugs and rodents like ants, scorpions, cockroaches, bedbugs, spiders, bees and beehive removal, wasps, hornets, and rodent removal for rats, mice, gophers roof rats, Pack Rats and moles in Avondale Arizona.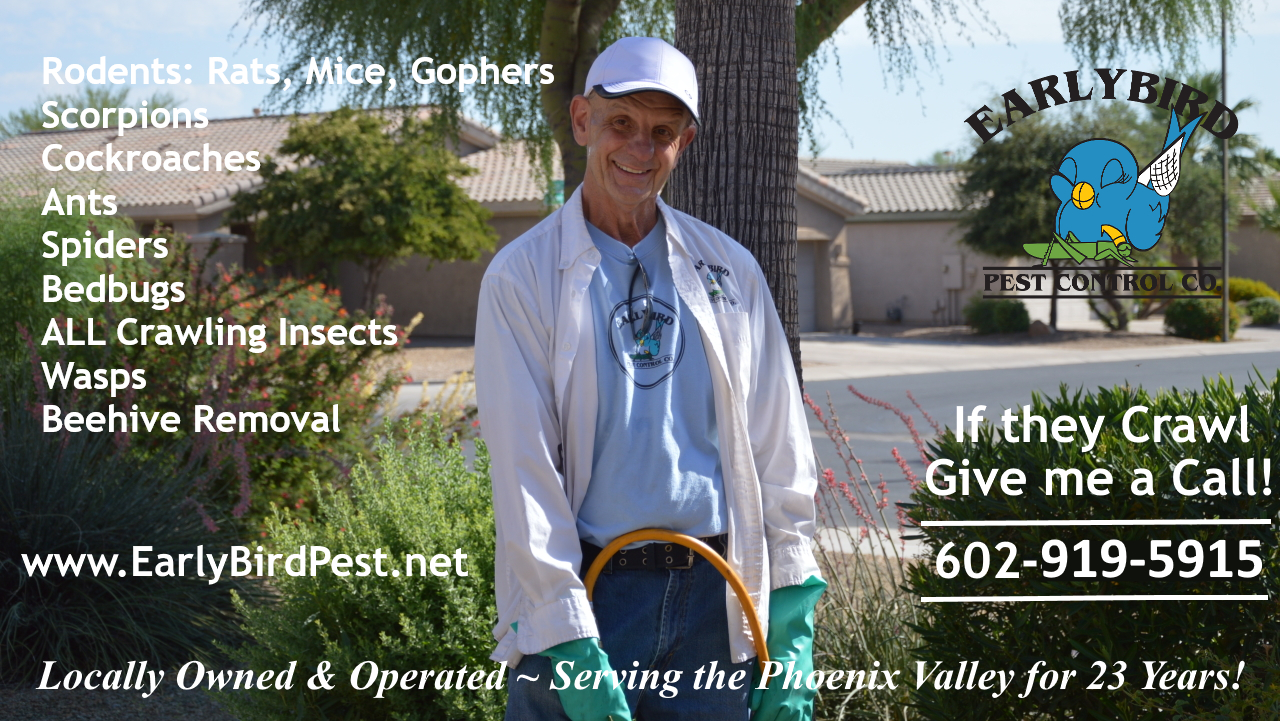 Give me a call at 602-919-5915 if I can be of service in Avondale and the Phoenix West Valley. I've been providing quality pest control services in Avondale and the Phoenix Valley for more than 23 years. We off professional service and affordable pest control maintenance plans for your home or business in Avondale, Arizona. ~ Henry
If They Crawl… Give Me A Call! 602-919-5915
Early Bird Pest Control has a NEW Phone Number, Call 602-919-5915 to schedule Pest Control or exterminator service in Phoenix, Scottsdale, Tempe, Paradise Valley, North Scottsdale, Peoria, Glendale, Litchfield Park, El Mirage, Surprise, Sun City, Waddell, Goodyear, Avondale, Buckeye, Estrella Mountain Ranch, Verrado, Tolleson or Laveen Arizona.