North Scottsdale Pest Control Services
Here you will find information on the different types of services Early Bird Pest Control offers in North Scottsdale Arizona as well as some general info and history about Scottsdale, AZ. 
Early Bird Pest Control has been providing quality pest control exterminator services to North Scottsdale, the Phoenix Arizona Valley and Maricopa County for over 23 years.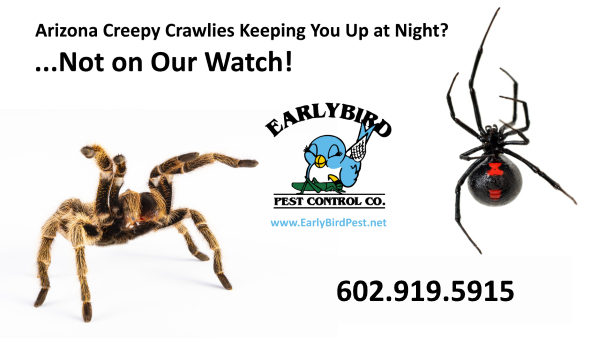 North Scottsdale Beehive Removal:
Bees, Wasps, Hornets
There are more than 1300 Native Bee Species in Arizona, as well as invasive killer bee swarms have been found throughout Arizona.  If you see a bee swarm around your house or on your North Scottsdale property give us a call. Early Bird Pest Control has more than 23 years of experience with beehive removal and removing bees, wasps, hornets nests, and hives throughout North Scottsdale and the Phoenix Valley.  are experts at removing bee swarms and beehive removal from Arizona property with more than 23 years of experience.  Many Wasp and hornet species are common in Arizona as well, don't hesitate to call us if they've made a nest or hive on your North Scottsdale property or home.
If you are wondering what type of bee species you might have seen on your North Scottsdale or Paradise  Valley Arizona property, here is a link to the University of Arizona Bee identification guide. 
 Be sure to call Early Bird Pest Control in North Scottsdale Arizona with any questions regarding beehive removal, bee, wasp, or hornet control in North Scottsdale or any other North Scottsdale Pest Control problem such as scorpions, spiders, cockroach, ants, rats or gophers. 
North Scottsdale Beehive Removal – Bees – Wasps – Hornets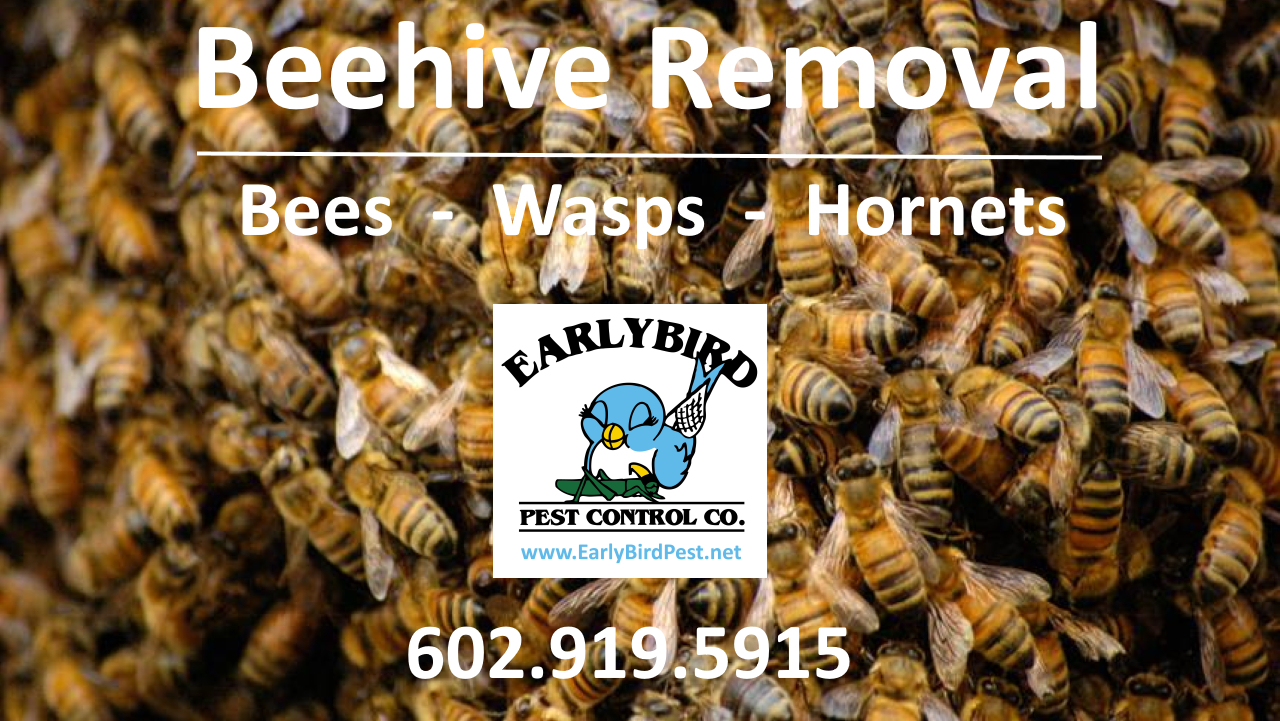 North Scottsdale Scorpion Pest Control Exterminator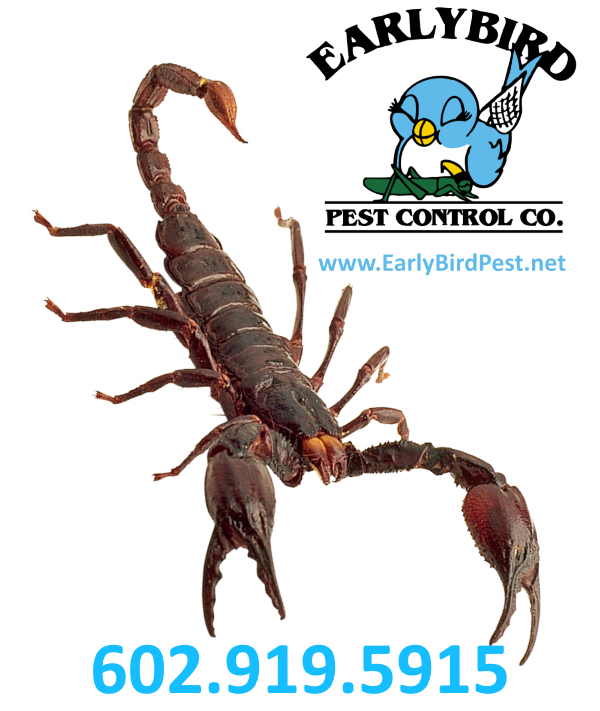 We provide professional pest control and exterminator services for the entire Phoenix Valley including North Scottsdale, North Phoenix and Paradise Valley.
Scottsdale, Old Town Scottsdale and North Scottsdale Arizona
Scottsdale was named after Winfield Scott, a retired United States Army Chaplain back in 1894. The City of Scottsdale was incorporated in 1951 when the population was around 2000. In 2020 the population of Scottsdale Arizona is estimated at around 260,000+. 
Scottsdale Arizona is located in the North-Eastern part of the Phoenix Arizona Valley in Maricopa County AZ. 
Old Town Scottsdale is located at the Southern end of Scottsdale near Phoenix while North Scottsdale is, well North!  Up towards Paradise Valley, Kierland area and up toward Cave Creek and Carefree Arizona. 
Scottsdale offers everything from great restaurants, casinos, golf, hiking, mountain biking four-wheeling in the desert, or relaxing by the pool. Scottsdale is also a mere 90-minute drive from beautiful Sedona Arizona and not much farther Flagstaff the Northern Arizona gateway to the Grand Canyon and Page Arizona. 
All About Scottsdale Arizona
Scottsdale is a very popular tourist destination and attracts huge crowds for the many annual events held in Scottsdale from the famous Barrett Jackson Automobile Auction, The PGA TPC Golf Tournament to Spring Training for the local Arizona Diamondbacks, Colorado Rockies and in Oldtown Scottsdale, the San Francisco Giants. Old Town Scottsdale or South Scottsdale is known for many great restaurants, bars and a vibrant nightlife. 
Beehive Removal in Scottsdale Arizona and North Scottsdale AZ.
North Scottsdale Pest Control Exterminator
Early Bird Pest Control in North Scottsdale provides commercial and residential pest control and exterminator services. Give us a call if you have a problem with all insects, bugs, rodents, and bees. Scorpions, Spiders, Cockroaches, Ants, Mosquitoes, Flies, Bees, Hornets, Wasps, beehive removal, Rats, Mice, Roof Rats, Pack Rats, Gophers or moles.
Whatever your pest problem we have a pest solution based on 23 + years experience of pest control, extermination, removal, and treatment in the Phoenix Arizona Valley!
If They Crawl… Give me a Call!   Free Estimates and First Time customer discounts: 602-919-5915.  You'll be glad you did!
Scorpion and Pest Control Exterminator in North Scottsdale AZ
If you have scorpions at your Scottsdale or North Scottsdale home or property. We can help. We've been taking care of North Scottsdale's scorpion and pest control problems for 23 years.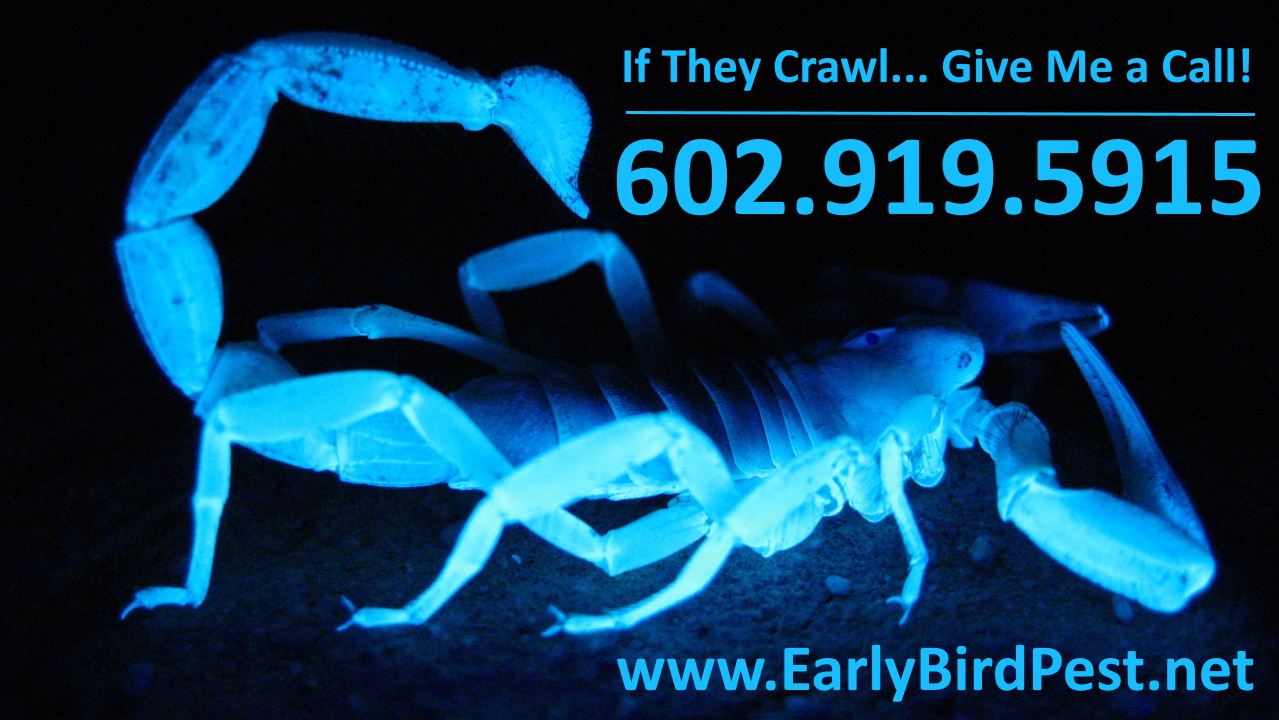 Rodents – Rats, Pack Rats, and Roof Rats
Rats are common rodents found in North Scottsdale Arizona.  If you live in Scottsdale, Paradise Valley, or Phoenix Valley and have a rat, rodent, gopher, or mouse problem give us a call.
.You hear about roof rats and pack rats in North Scottsdale and Paradise Valley 2 of the areas we provide pest control services frequently. 
They can nest in your attic and you might hear them scurrying around at night. If you have dogs or cats they may alert you to some sort of critter, usually a roof rat or mice up in your attic.
It's a good idea to have your attic inspected for signs of roof rats or mice occasionally by a rodent, rat and pest control company in North Scottsdale Arizona,  like Early Bird Pest Control.   They are very common in North Scottsdale and the Phoenix Arizona Valley including  Scottsdale, Paradise Valley, Goodyear, Avondale, Buckeye, Sun City, Surprise, Peoria, and Glendale.
If you've seen a roof rat on your Arizona property and are wondering what kind of rat or rodent it is, Maricopa County has an online roof rat identification guide.
Another common Arizona Rat species is the Wood Rat also known as the Pack Rat. These little guys are very clever and can be quite the menace. They can cause quite a bit of damage to property and electrical wires if you have one on your property.
If you have a Rat or rodent problem at your North Scottsdale Arizona home or property in the Phoenix Valley, give Early Bird Pest Control a call. We've been aking care of Arizona rodent and rat infestations for 23 years in the Phoenix Valley!
North Scottsdale Rat and Rodent Control Exterminator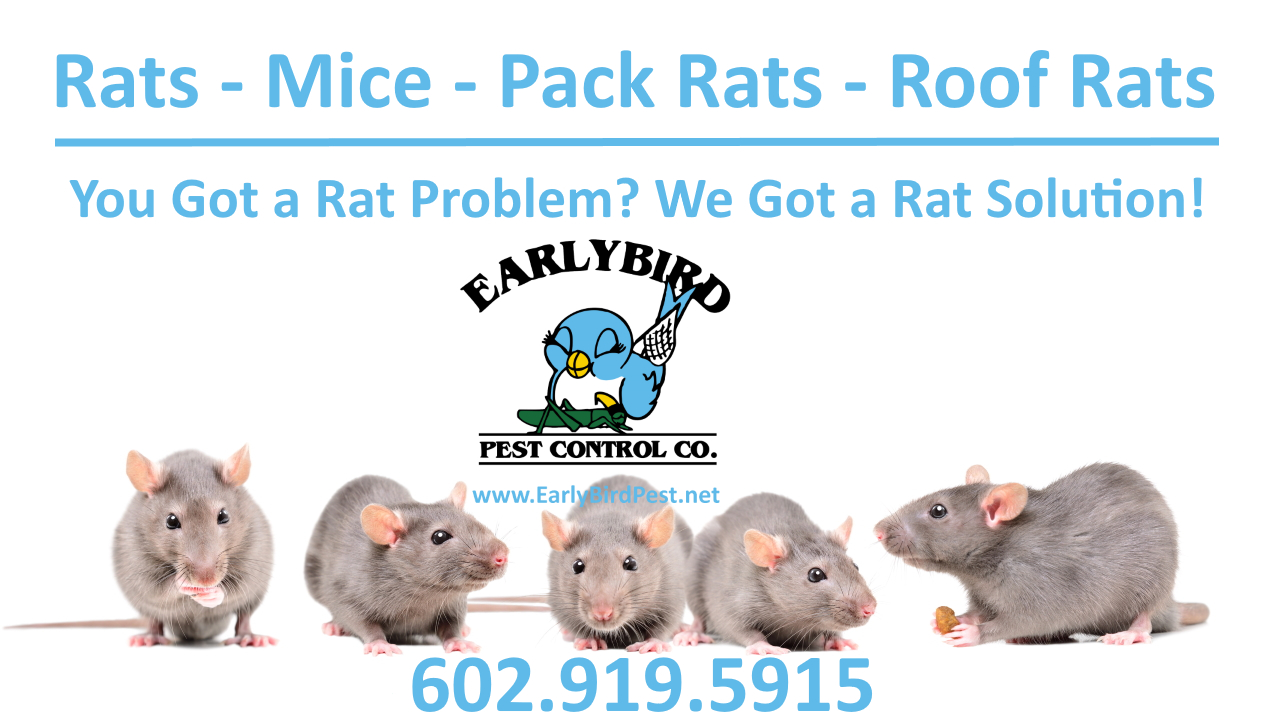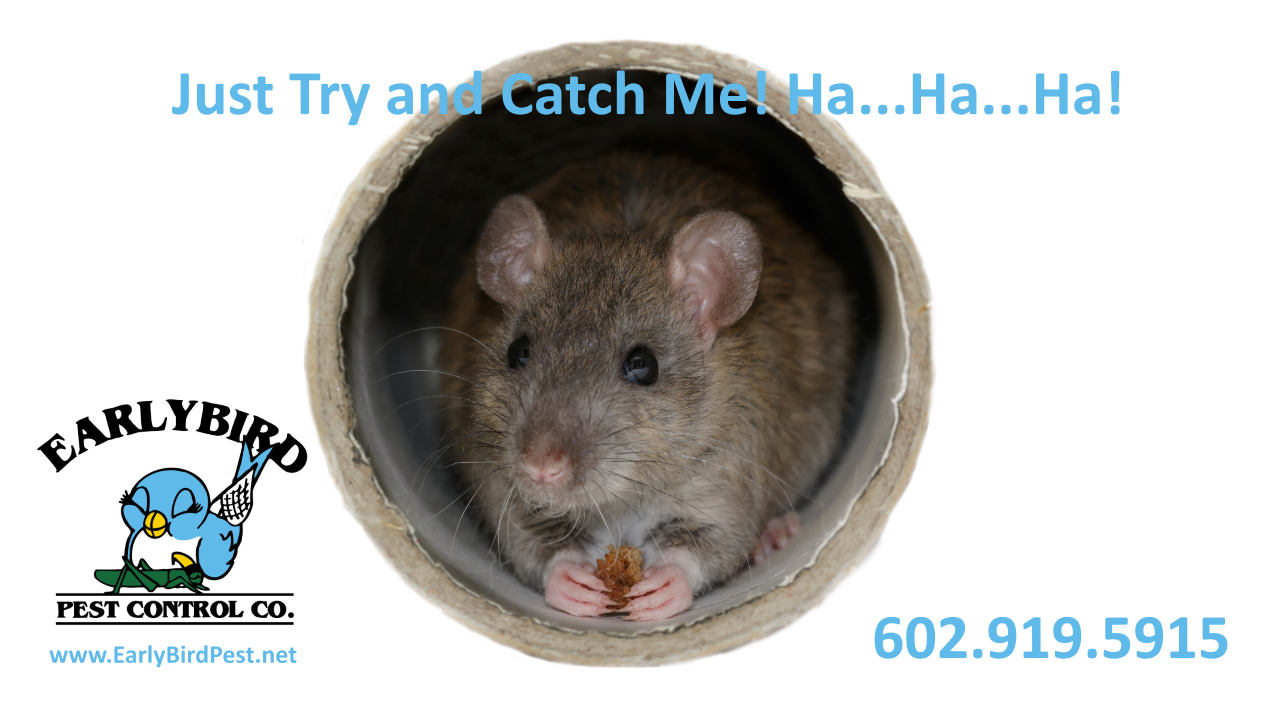 Got Gophers? We Can Help with Your Gopher Problem in North Scottsdale AZ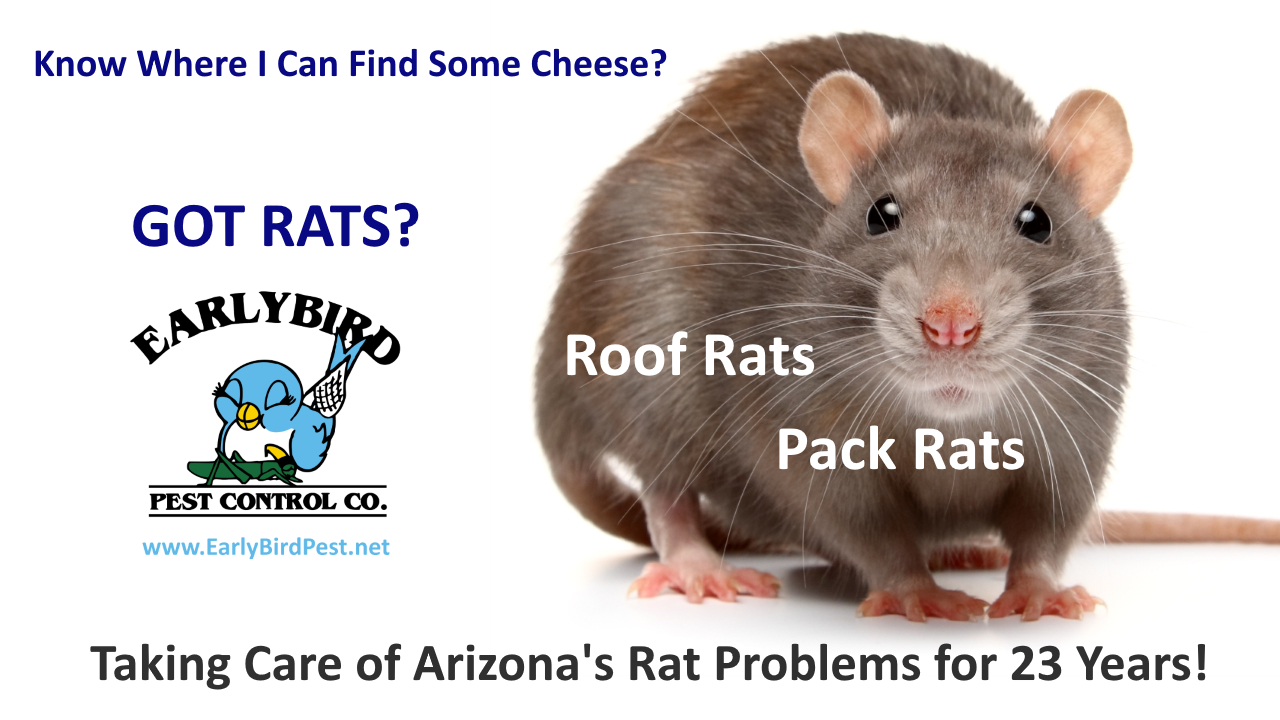 North Scottsdale Scorpion and Pest Control Treatment
Watch the video below where Early Bird Pest Control Owner Henry talks about scorpion treatment and pest control in North Phoenix, North Scottsdale and Paradise Valley
Got a Rat Problem? We've Got a Rat Solution! 
Roof rats, pack rats, mice, moles and gophers. If you have rodents on your North Scottsdale property we can help.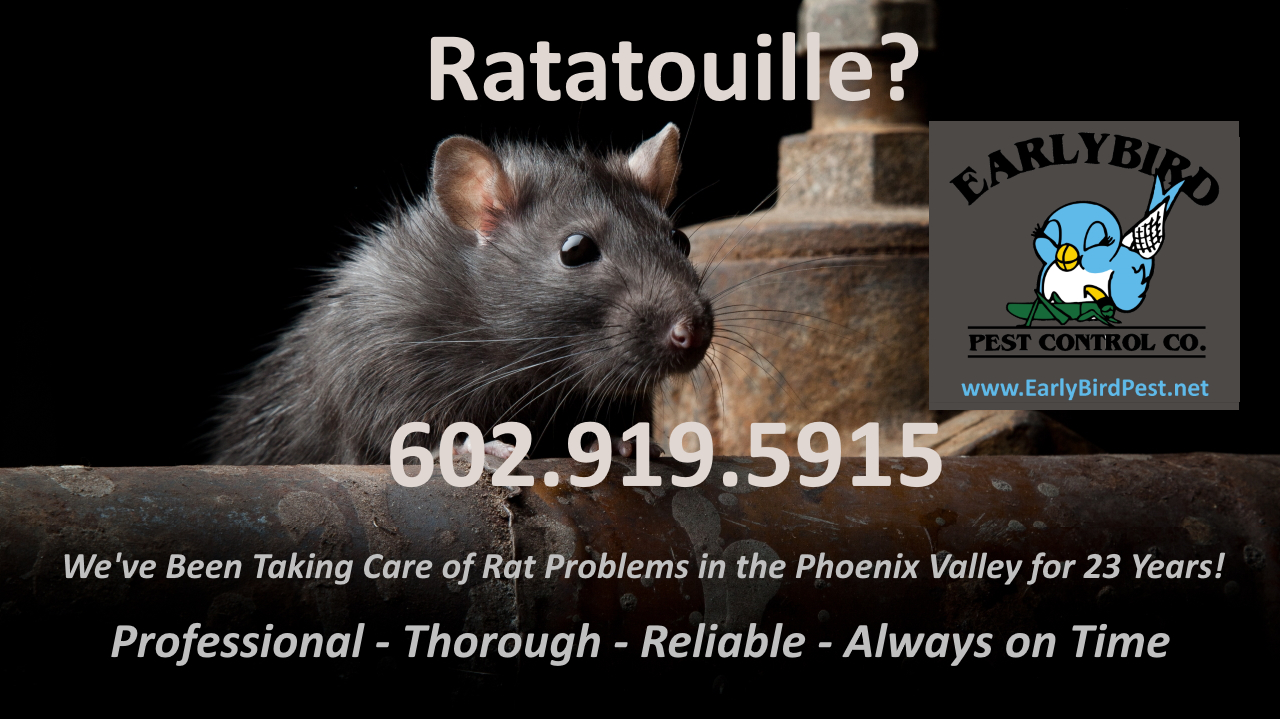 BedBugs in North Scottsdale?
Bed bugs are common throughout Arizona due to the warm climate. If you have bedbugs, we can take care of that for you.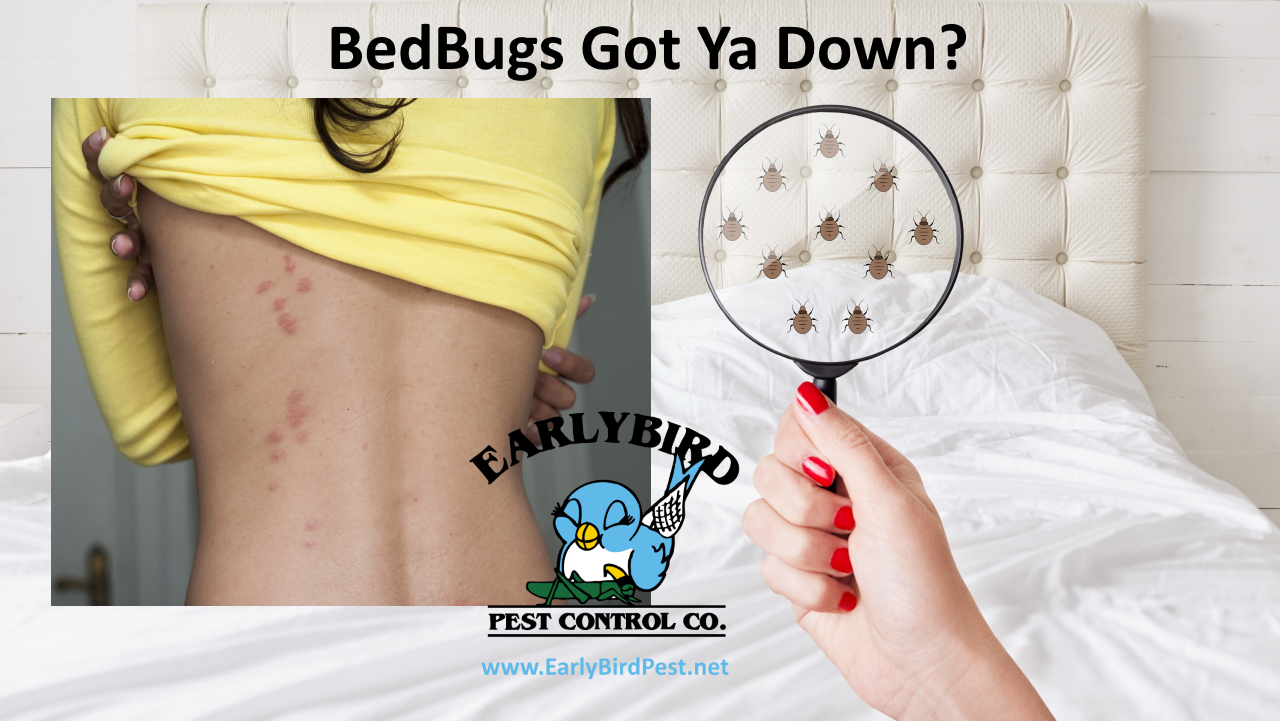 Yep. Nah! No Way! Just Get Rid of Em'
Nobody likes cockroaches. Nobody. But they are everywhere in Arizona. If you see cockroaches on your property or in your home, give us a call. Our Pest Control Service in North Scottsdale has got your back!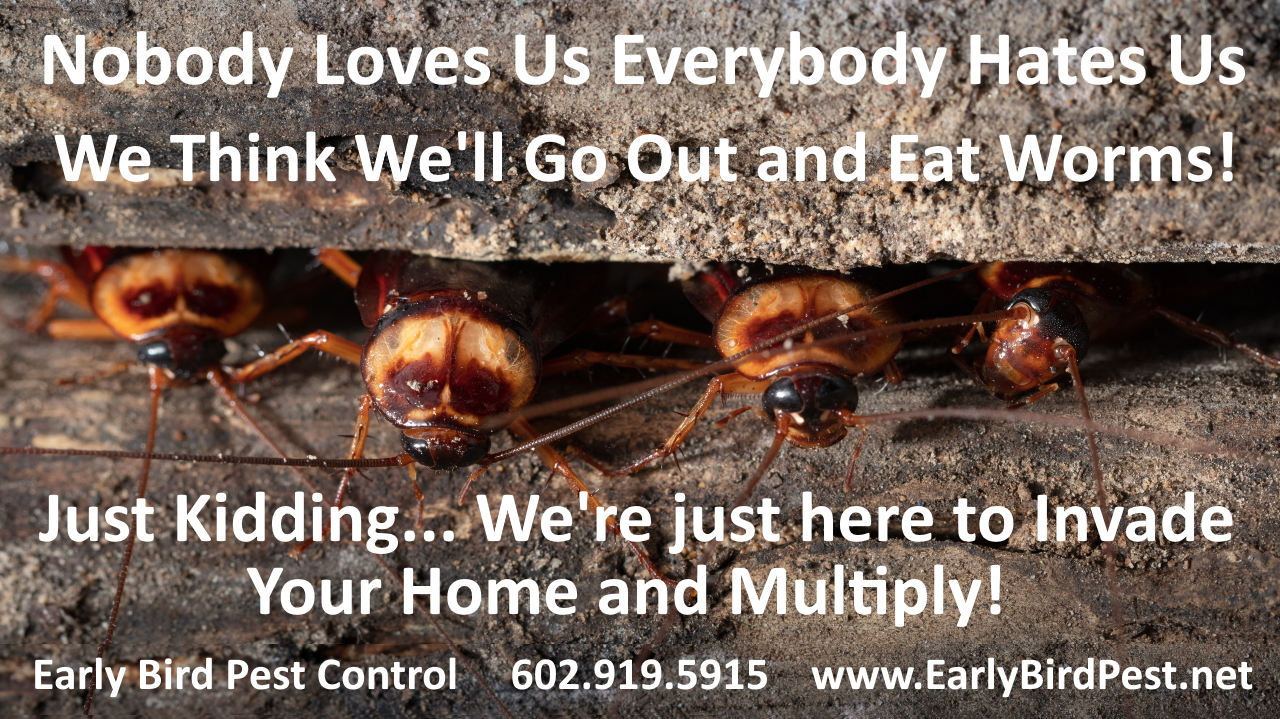 Early Bird Pest Control has a NEW Phone Number, Call 602-919-5915 to schedule Pest Control or exterminator service in Phoenix, Scottsdale, Tempe, Paradise Valley, North Scottsdale, Peoria, Glendale, Litchfield Park, El Mirage, Surprise, Sun City, Waddell, Goodyear, Avondale, Buckeye, Estrella Mountain Ranch. Verrado, Tolleson or Laveen Arizona.