Arizona Bedbugs Pest Control Exterminator
Bedbugs can be a huige problem in Arizona because of the excessive heat. Bedbugs love the heat and hot environments.  Bedbugs are a really unpleasant problem that is challenging for any pest control professional or even experienced bedbug and insect exterminators to deal with.
Bedbugs can live in your bed, in your mattress and bedding, in your clothes, furniture and they are almost undetectable by the naked eye.
Got a Bedbug Problem in Arizona? We Have a Bedbug Solution!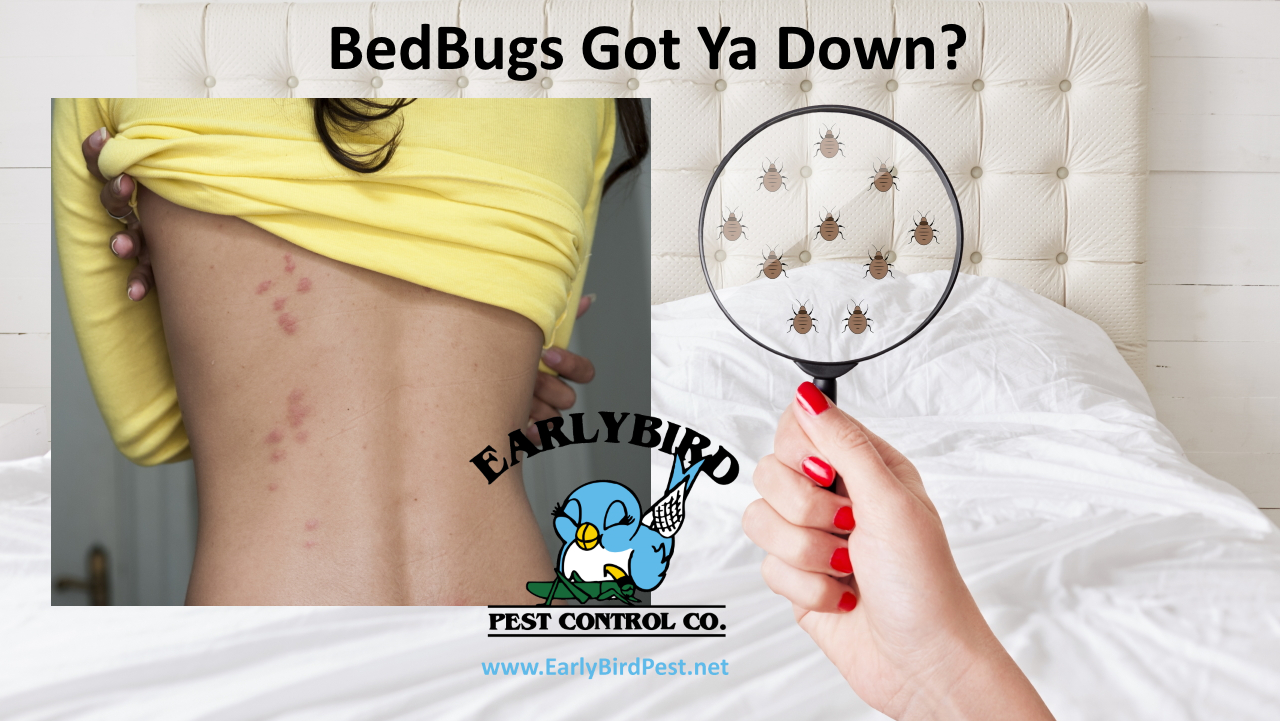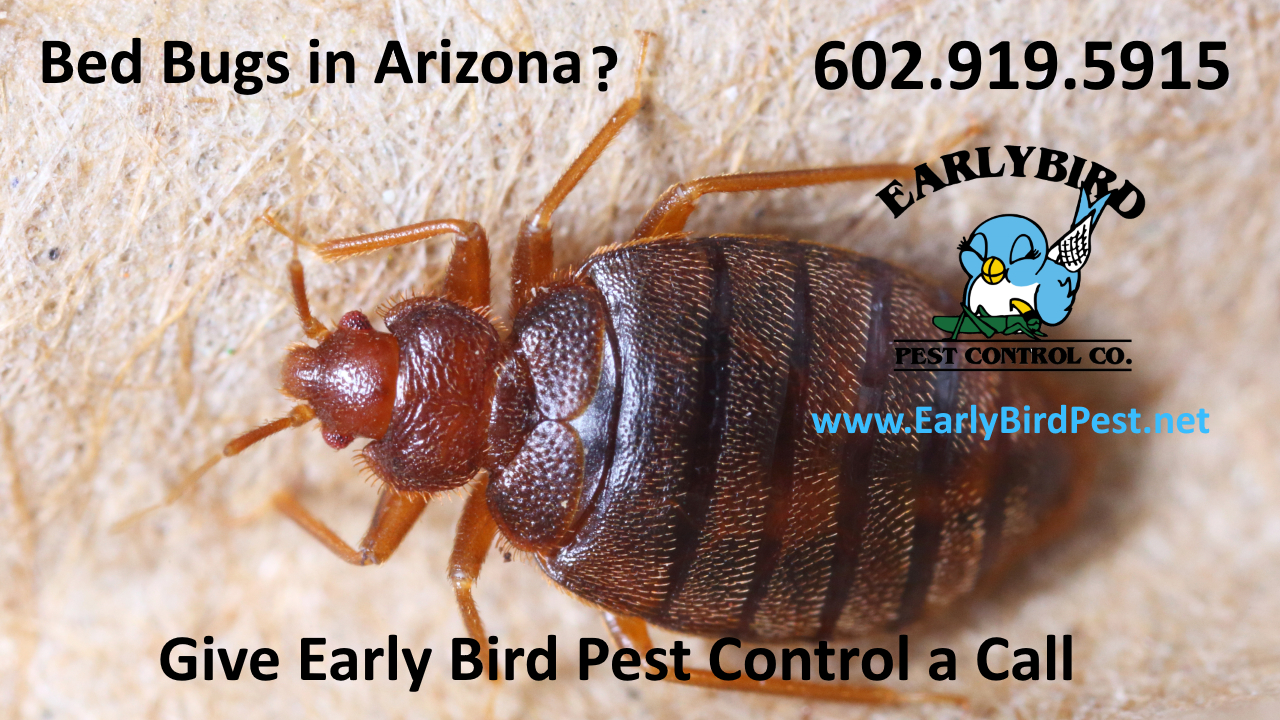 What to Do When You Have a Bedbug Infestation in Your Arizona Home
Bedbugs are awful. No way around it. All the more reason that when you have a bed bug infestation in your Arizona home in the Phoenix Valley, Call the experienced bedbug exterminators at Early Bird Pest Control Solving Arizonas pest control problems and exterminating bedbugs in the Phoenix Valley for more than 23 years!
If They Crawl… Give Me a Call! 602.919.5915
Bedbug Infestation Removal and Bedbug Extermination in Phoenix Arizona
Exterminating Bedbugs and other pesky  Arizona desert creepy crawlies throughout the Phoenix Valley including Scottsdale, Phoenix, North Scottsdale, Paradise Valley, Cave Creek, Carefree, Goodyear, Peoria, Glendale, El Mirage, Avondale, Sun City, Surprise, Buckeye, Verrado, Waddell, Estrella, Litchfield Park Palm Valley, Pebble Creek, Grayhawk, McCormick Ranch and more.
Bedbug extermination and removal as well as pest control maintenance services available in our Phoenix Arizona Valley Service Areas.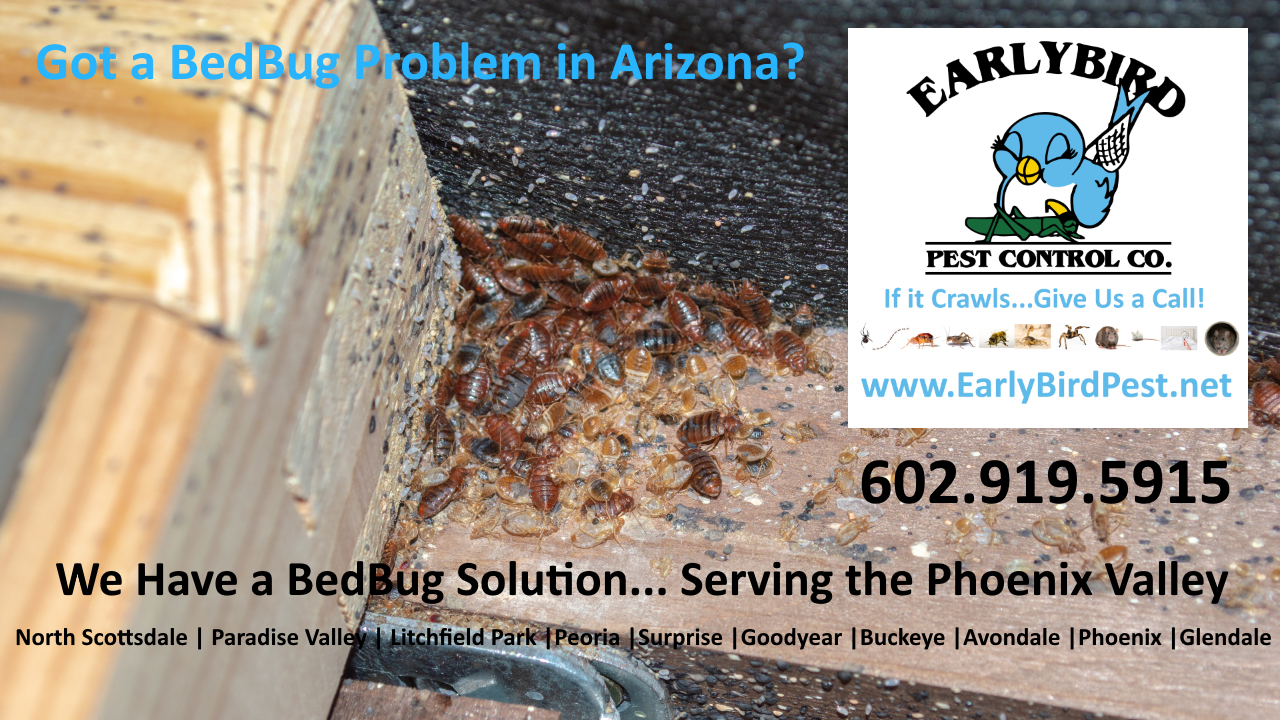 Don't Wait Until You Have Bedbug Bites!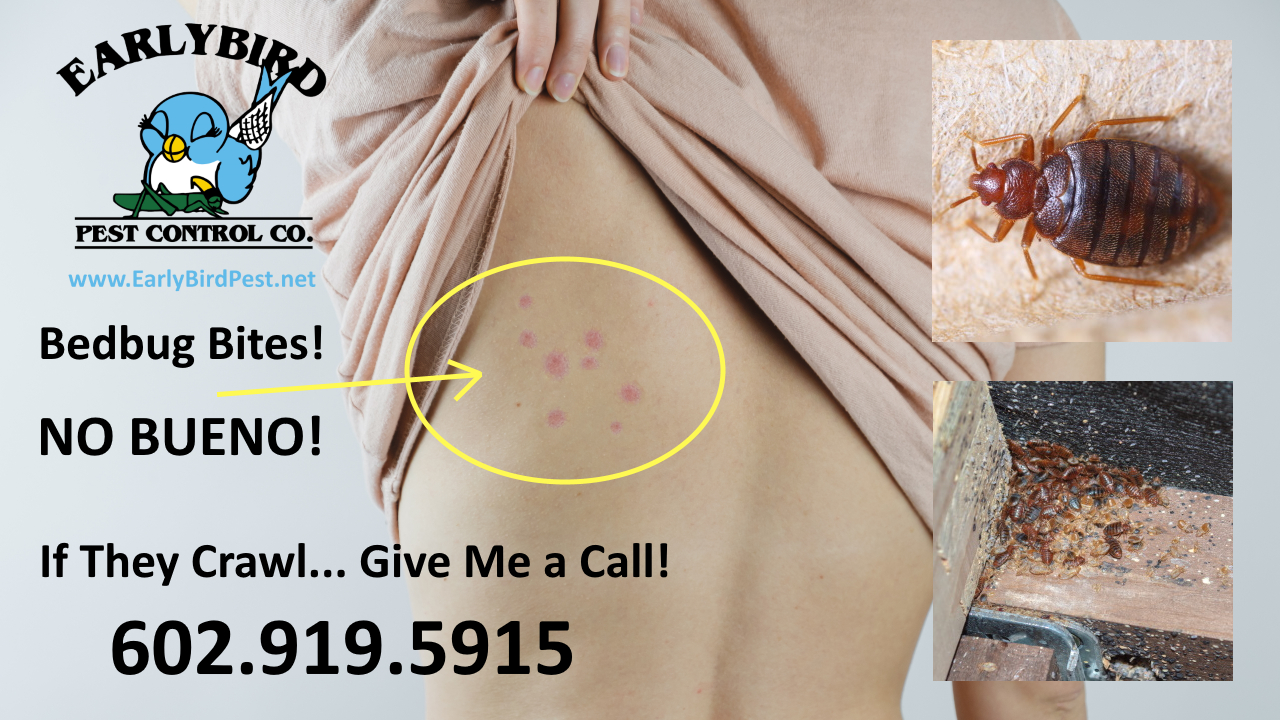 Providing Quality Experienced Professional Pest Control Solutions in Phoenix Valley for More Than 23 Years!
Learn the Signs of Bedbugs in Your Arizona Home
ed bugs have flat bodies that allow them to fit into tiny spaces. In the initial stages of infestation, they congregate in places like mattresses, headboards, and bed frames, where they can have easy access to bite people at night.
Over time, they migrate to various parts of the room, occupying crevices and other concealed areas. They can also move to other rooms in the house or even other apartments.
You can spot adult bed bugs with the naked eye in places like:
• Mattresses
• Headboards
• Loose wallpaper or panels
• Ceilings or wall joints
• Creases and crevices around sleeping areas
• Curtains and draperies
• Around Bed Frames and Box Springs
• Behind Pictures and Wall Hangings
Bed Bugs are small, flat, reddish-brown insects that feed on the blood of humans and other animals or pets. Adult bedbugs are flat oval-shaped about 1/4 inch in length. Bed bugs don't fly or jump like fleas.
Bed bugs are found in homes, apartments, hotels and places where people sleep because they are stationary while they sleep. This is when bed bugs are active, at night when we are sleeping, they feed on our blood then scurry back to their hiding place in your bed, bedding, linen or nearby crevices in walls or bed frames and even your bed mattress.
When inspecting for bedbugs the first places we look are usually in seams and creases of the bedroom mattress, corners of boxsprings, bed frames, behind headboards, pictures on walls, behind light switch plates in walls, clothing in closets, nightstands and dressers, upholstered chairs and furniture, curtains bed skirts and more!
Arizona bedbugs have been around a long time and they're not going anywhere. Here is some helpful tip to minimize the possibility of a bedbug infestation in your Phoenix Arizona Valley home or property.
1. Vacuum regularly to remove both live and dead bedbugs. After vacuuming dispose of the vacuum bag contents in a sealed plastic bag for containment, in case there are any live bed bugs.
2. Heat will kill bed bugs. wash suspected bed bug infestation linen and clothes in hot water and dry in hot heat setting on your clothes dryer.
3. Clean up clutter and debris around the home as much as possible. This is true for all Arizona insects and pests including bed bugs, spiders, scorpions, cockroaches, ants, mice, rats and rodents too, both inside and outside the home. Less clutter means less potential nesting and hiding places for pests.
4. Retail pest control products are not effective against bed bugs and the chemicals can cause harm to your family or pets. If you have a bed bug infestation in your Arizona home we recommend calling a bed bug extermination professional like Early Bird Pest Control in the Phoenix Valley. We deal with bed bug infestations all the time and know exactly what to do and how to treat the problem and get you back to a safe and pest-free home environment.
Learn About Other Pest Control Solutions in Arizona
ABC 15 Video on Bed Bugs and a bed bug infestation at a Local Walmart store in West Phoenix at 35th Ave and Bethany Home Rd